#SMW12 In Rewind: Nosh, The Social Business of Food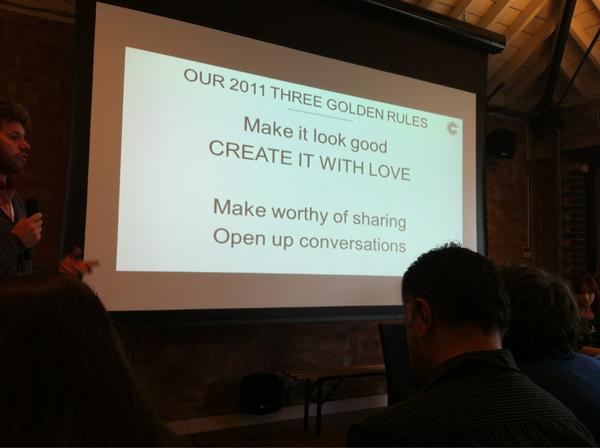 This is a guestblog by Beckie Stravers / Social Media Week.
Ollie Lloyd of @gbchefs started off the discussion on the social business of food driving home the basic 3 rules of social strategy. Make it look good, make it worthy of sharing, and start a conversation! With special emphasis on the "looking good" part. Spend money on great design, there is no place for average images in the social medium. However, remember that a good food image (or any image for that matter) is created with love. Not food stylists.
Great British Chefs also emphasised dedicating time and experimenting in trendy or fridge social efforts, but be prepared to fail. GBChefs saw an oppotunity with Google+ to host live cooking demonstrations paired with G+ hangouts. This risk ended up paying off as GBChefs outlines greater follower numbers on G+ than Facebook. Though their Facebook insights are nothing to sneeze at, quoting an average of 400 engagements per post 3-4 times per day.
Kath Ludlow of @moolis discouraged the scheduling of tweets, stating that you "can't predict the weather." And that just as their food is served fast then so should the social communications. Another element for food brands to consider on social media is what the consumers actually want. Is it info, assurances, promotions, dialogue, acknowledgement, or surprises. Always respond to content and reward customers, a key element in developing "brand ambassadors."
Nick Holzherr took the stage and introduced @WhiskTeam, an online shopping list and recipe app that he introduced during his season on BBC Apprentice 2012. Discussion turned to incentivising sharing and engagement from followers and quickly spurned a healthy debate of ROI and the necessity of at least trying to measure it. Many noted it was interesting the demands of ROI put to social media that aren't made of traditional media.
Livestream Video
Other Coverage
Beckie Stravers is a New Yorker, lifestyle blogger at Cubicle57.com, and a social media pusher at MakeYourMediaSocial.com. She loves tweets and the internet, and hopes to see you around the world wide web. You can follow her on twitter @cubicle57blog. She is one of our four Official Correspondents covering SMW12 for Crowdcentric.